---
---
MTN 94 400ml Semitransparent Air White
Very low opacity, translucent, solvent-based acrylic paint formulated to create shadows and three-dimensional effects in the fields of graffiti, mural painting, decoration and fine arts.
FEATURES 
- Fast drying. 
- Good adherence. 
- No yellowing. 
- Does not contain lead nor other heavy metals. 
- Easy to apply and repaint. 
- Matte finish. 
- It may also be considered a tinted varnish. 
- More opacity can be obtained by applying in layers. 
PANTONE®



UV RESISTANCE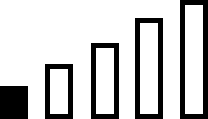 OPACITY
---